Small Area Scent Diffusers
Home > Small Area Scent Diffusers
S-300B
Smart PCB Control
Eco-friendly PP material
With Fan Inside
Has 5 group work periods
Essential oil is available
Stand alone/wall mounted to use
PVC panel, perspective window design
atic power off when essential oil is empty
With the design of locking clip, it is safer and more convenient to change the essential oil
Hotels, Auto 4S shop, shopping, office building and many places are suitable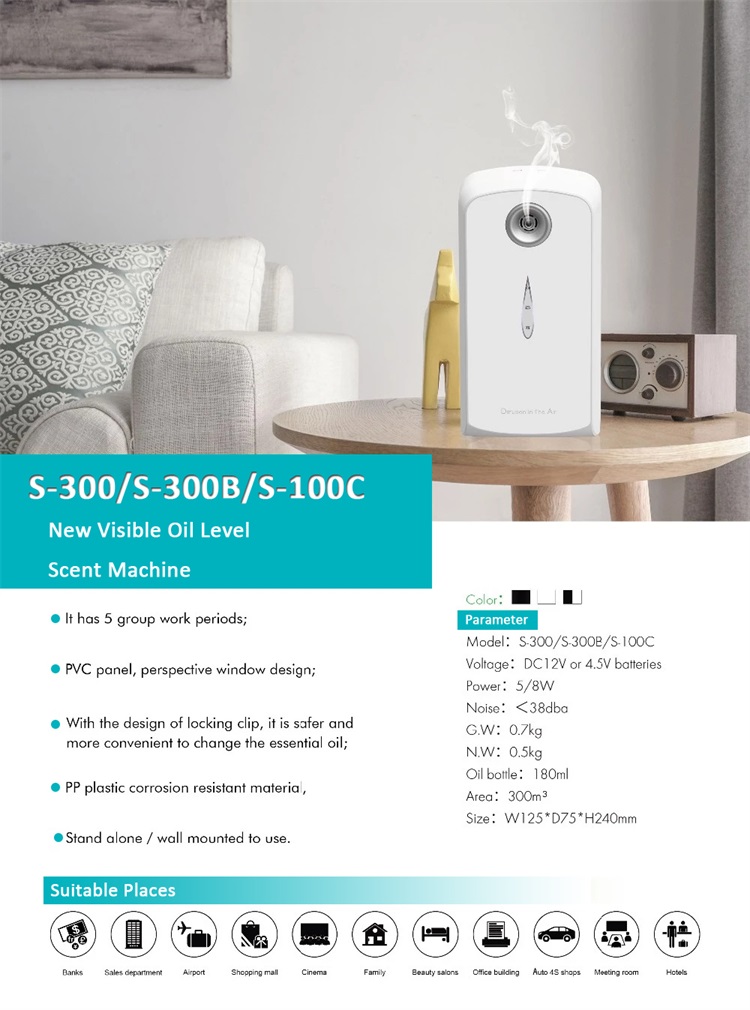 S-300 Scent equipment is suitable for small commercial places to create an aromatic atmosphere. It uses advanced
physical atomization technology to make the liquid oil into fog, can diffuse the fragrance into the air environment
quickly,can maximizesfragrance coverage and aroma concentration. It is easy to change the fragrance oil and can
change fragrances according to new themes and seasons. The intelligent remote control scent diffuser can adjusts
the fragrance release concentration and working time in different environments according to the customer's needs.


1. PP plastic shell, high strength and anti - corrosion material , lighter &smoth surface finished design.
2. It can set up 4 groups work periods , 7 days timer program setting and adjust fragrance concentration by PCB controler .PCB program can be locked after using, make it more safe.
3. Long life compressed air pump.
4. Fan inside design, relasing fragrance directly and would no drip oils
5. Put on the table to use or wall mounted installation.
6. Silent design with muffle, let you enjoy the quient.