Ultrasonic Scent Diffusers
Home > Ultrasonic Scent Diffusers
GAU-01
Ultrasonic atomization technology
Eco-friendly PP material
Silent running
Atomize various solvent
Essential oil, clean water, disinfectant fluidis, etc, available
Automatic power off when essential oil is empty
Support USB Plug in and 18650 lithum-ion charging battery
30 working days by using 18650 battery
Coverage & Oil bottle: 300m³/200ml
Home, hotels, Auto 4S shop, shopping, office building and many places are suitable
NEW Ultrasonic Scent Aroma Machine Silent Essential Oil Diffuser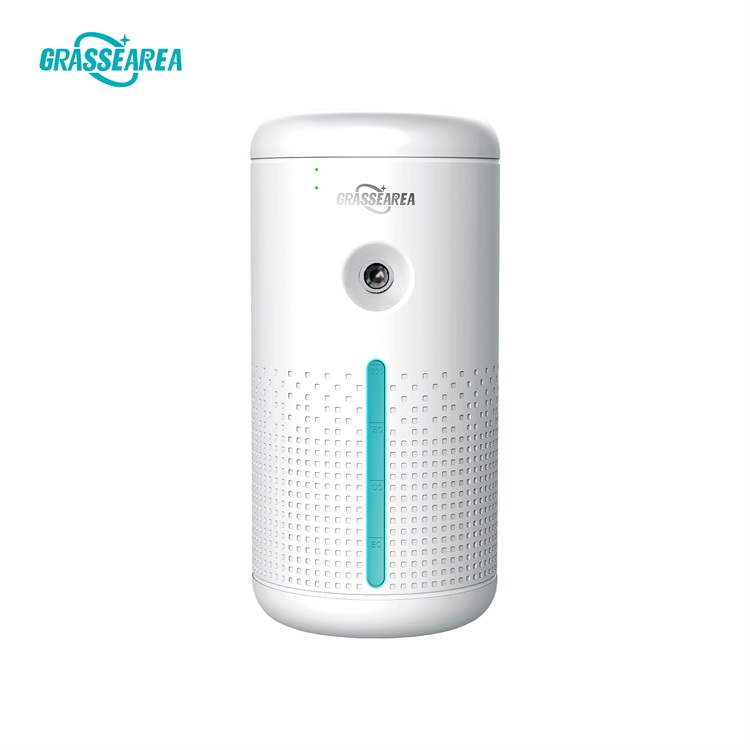 GAU-01 Ultrasonic Scent equipment is suitable for small commercial places to create an aromatic atmosphere.
It uses advancedphysical atomization technology to make the liquid oil into fog, can diffuse the fragrance into the air
environment quickly, can maximizesfragrance coverage and aroma concentration. It is easy to change the fragrance oil
and can change fragrances according to new themes and seasons. The intelligent remote control scent diffuser can
adjusts the fragrance release concentration and working time in different environments according to the customer's
needs.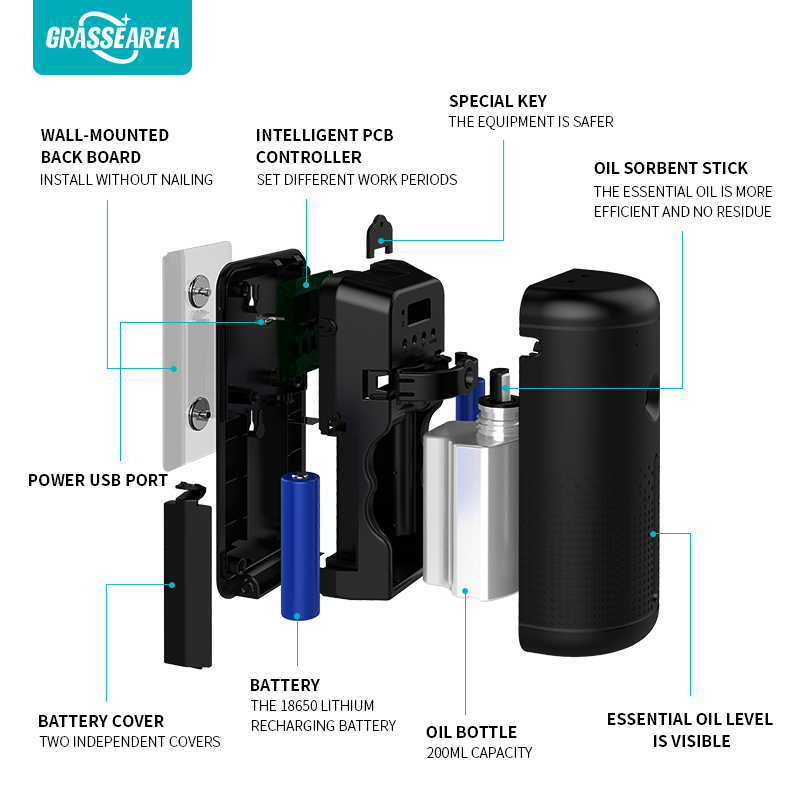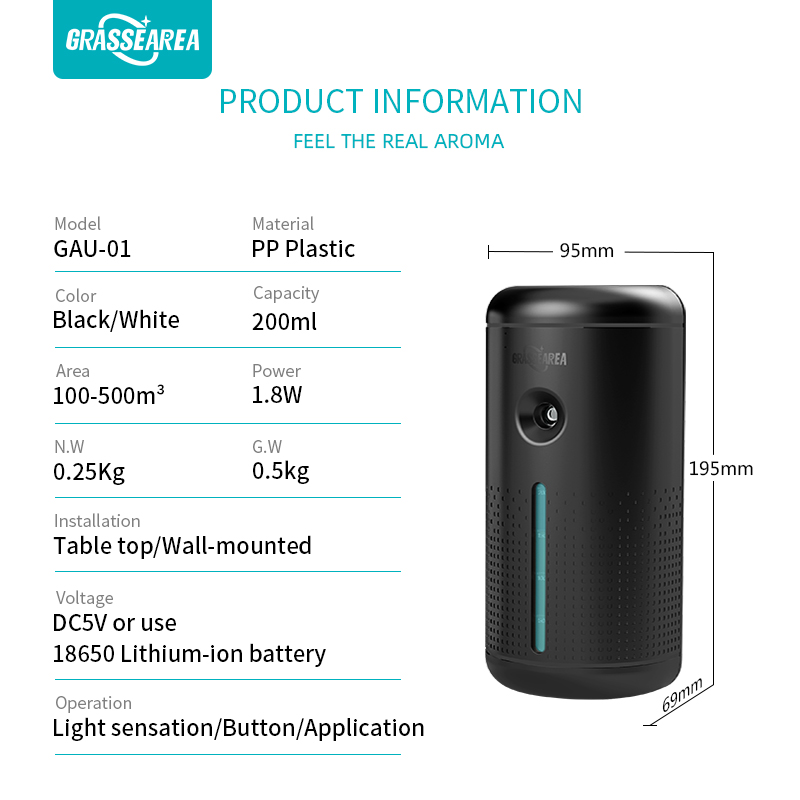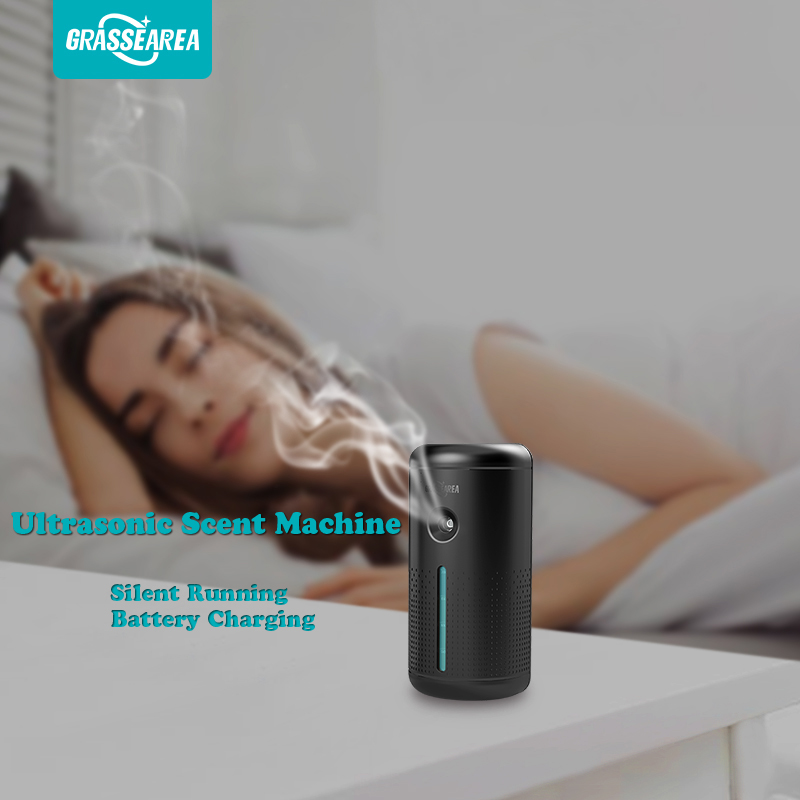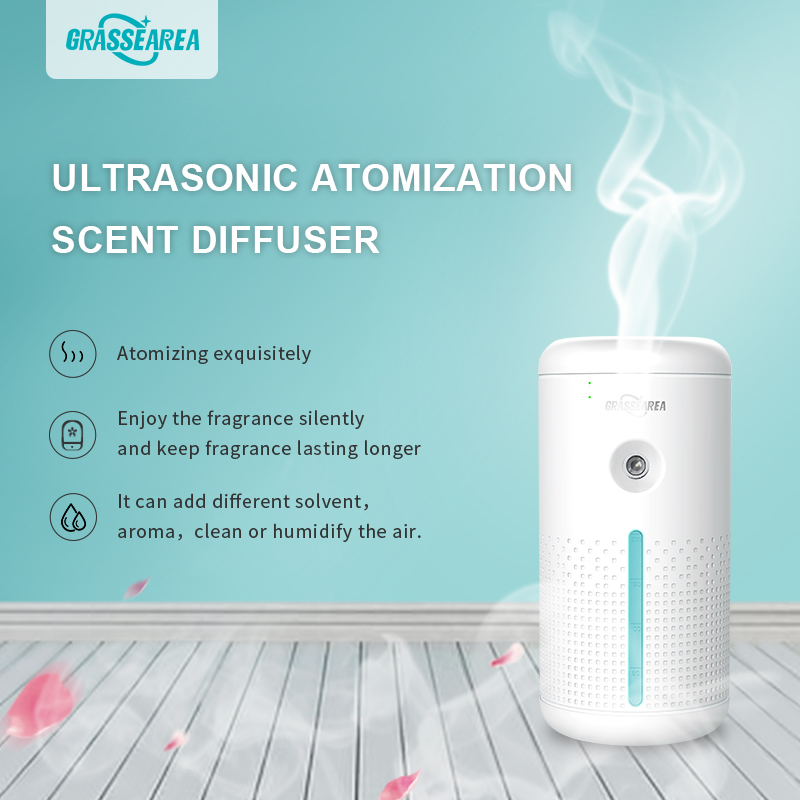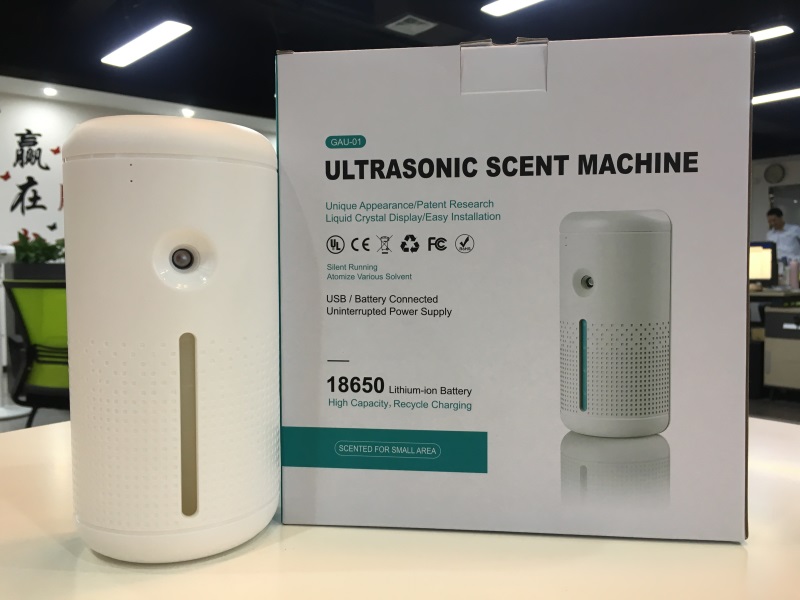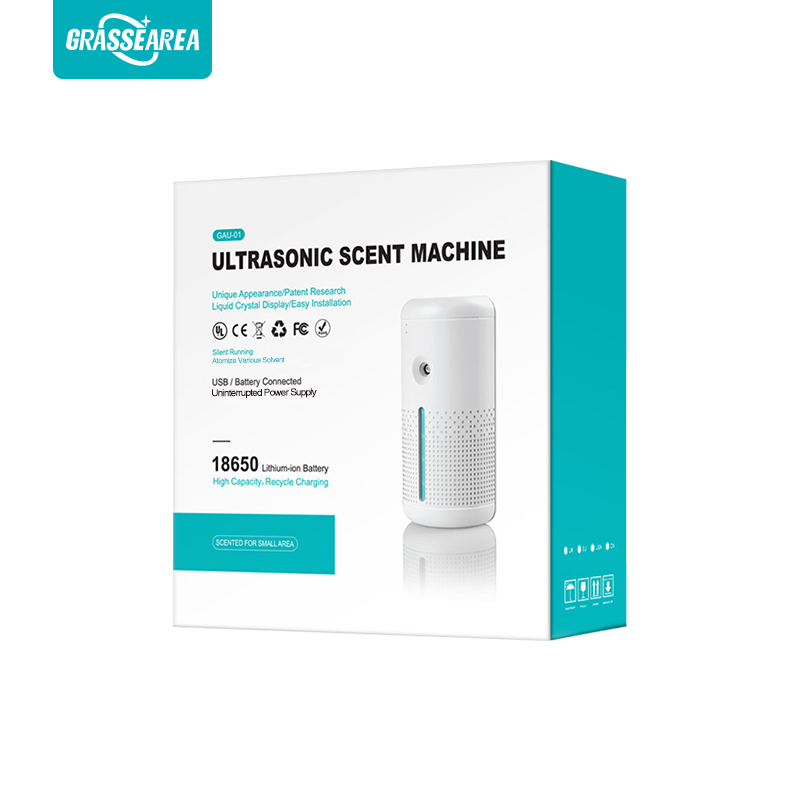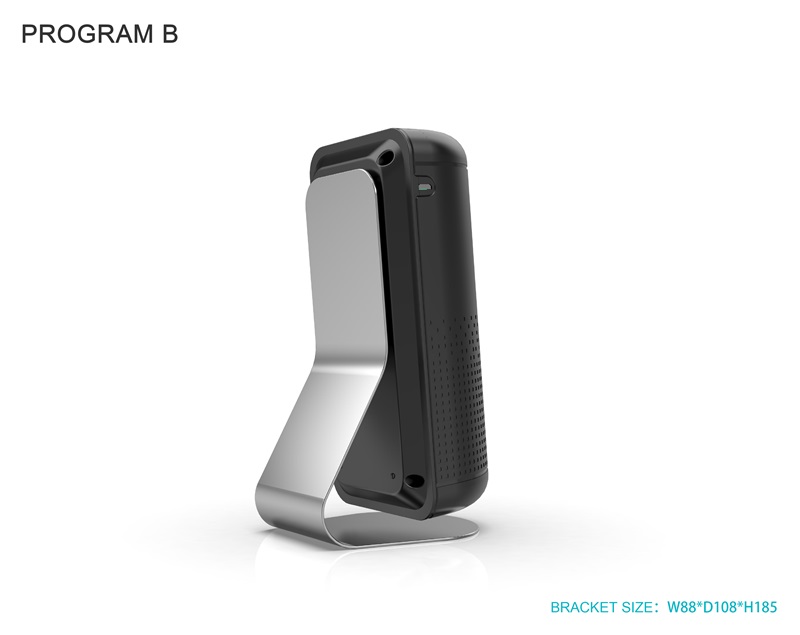 Guangzhou Grasse Environmental Technology Co., Ltd. is a normative professional manufacturer for Scent machines
and Scent oils with good reputation, it including the Research & Development, Production, Processing, Cooperation,
Sales, Maintenance.
We have comfortable, elegant, standardized, humane production workshop; Strict standards of product testing processes;
professional technical personnel and Harmonious labor relations between enterprises and employees.
For machines:
1.The products in the design and manufacturing processes to use a wide range of pigment composition;
2.The reasonable combination in different coverage;
3.The precision of deployment in true flavor of essential oil;
4.The Humanized embodiment in motivating the olfactory pleasure.

For Fragrance Oils:
Our R & D team carefully deployed different fragrance oils by customer needs, tailor made a unique flavor.
The products in the design and manufacturing processes to use a wide range of pigment composition;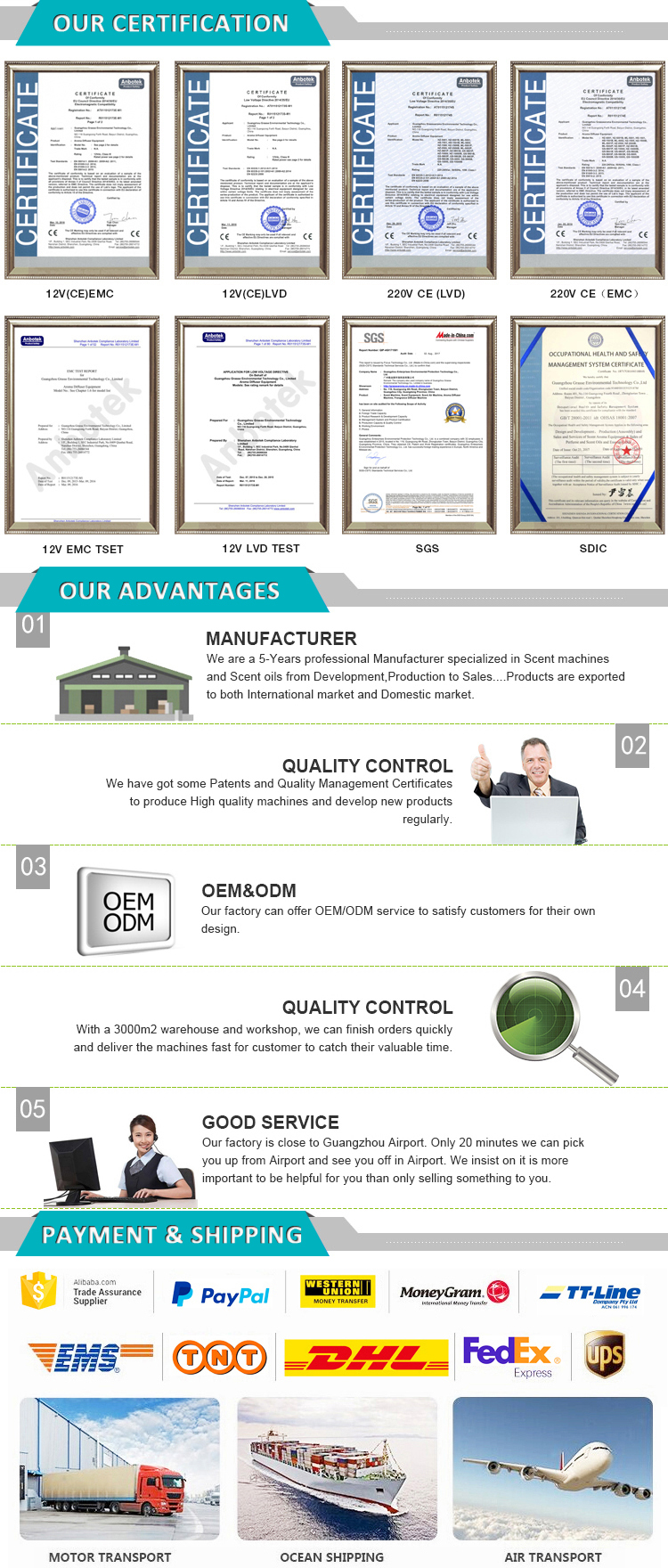 •
Packing & Delivery:
1. packing detail: It's packed in standard yellow carton with anti shock foam inside 6 in carton,
the external package is w76*d*46*h63cm
2. Delivery detail: Generally speaking, it cost about 2-3 days, if the goods are in stock, if not, it cost about 10-15days.
3. We offer DHL, TNT, UPS, FEDEX, etc